What a February!
The snow just kept coming and coming, followed by buckets of rain, inches of ice, and the occasional treat of a clear blue sky.
For Mount Hood photographer Grant Myrdal, the timing worked out perfectly. He suffered a painful rib injury falling off a ladder this winter, but his six-week recovery allowed him to get back out on the mountain just in time for the perfect conditions of Wednesday, February 17th.
Grant was still recovering from his injury on his first day back, to the point where he was scared just to get off the lift. But by the end of the day he was shooting the deep powder of Private Reserve. And a week later, he made it back for an equally mouth-water Wednesday of blue skies and deep snow, followed by yet another Bluebird Special on Saturday, February 27th.
These seven photos by Grant Myrdal capture the bliss of those three perfect days. Each photo has a story behind it, so I asked Grant to tell me more about where he was, who he was shooting, and what he loves about each shot. Grant's a great story-teller, so I will just pass the mike to him:
Dar Crammond, Jacob's Ladder
"Dar is a great telly skier, and he takes advantage of those telly boards to get all sorts of face shots in the pow. This shot is him dropping down Jacob's Ladder, and it's his second face shot down that pitch. A couple weeks ago I took him out for a private shoot with his girlfriend and two of his friends. I took them up for the first chair up Mt. Hood Express, and they had the best time ever. It was so much fun to get early load, and that first run was just magical. We started above Jacob's Ladder, then down Jacob's Ladder, then Powder Keg, and then one more little pitch before the base. We got three more laps before the hour was up, but that first lap was just special."
Jason Murray, 2 Bowl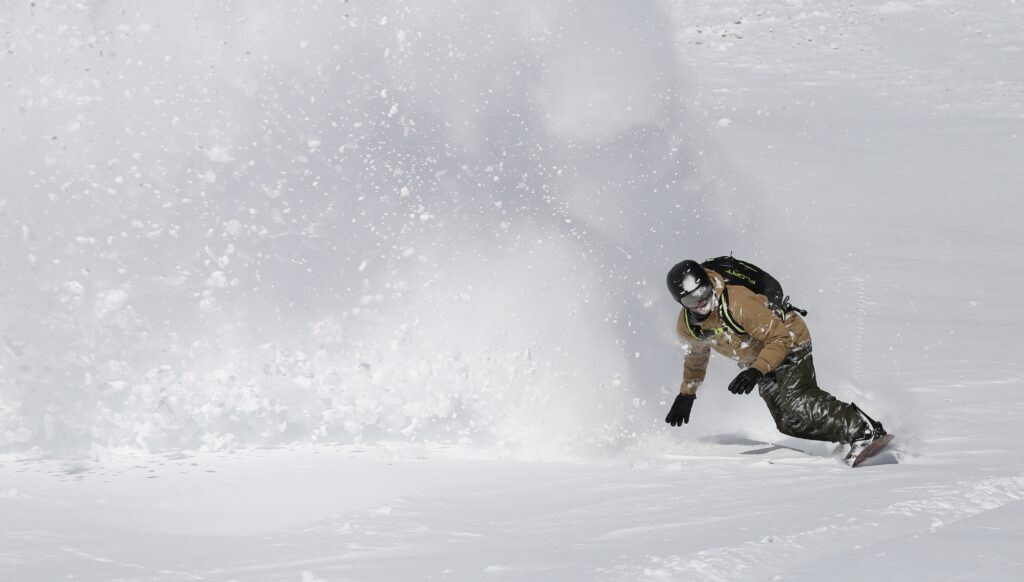 "Actually it's more like one and a half bowl, coming down below Blue Rock and the trees above. When you shoot sequences like this prior to that there's six or seven shots of the turn and the explosion, but I always like the shot where they're coming out, especially if it's a good rider like Jason. When I shoot him I always get excited because I know he's going to do the type of turns I love. And of course he's great photographer, so he knows exactly where to turn to get the shot."
John Mitchem, God's Wall
"When you come through the God's Wall gate, everyone traverses across to the top of God's Wall, but I'm always looking down into the trees below there. Down here it isn't as steep but it's this dense forest with little bits of light coming in from above the ridge. It's one of my favorite spots. I love all the little patches of snow up above his head. John and Tracy Chacon do season passes with me, and they have been doing it for so long that we end up doing impromptu private shoots all the time. I'll work all morning and then call them up when I'm done. And every time we shoot together we get absolute bangers, because they know what I'm looking for. They even see stuff I may have missed."
Tracy Chacon, Hippie Woods
"Hippie Woods is over by Clark Canyon. It's accessible by traversing out of Heather Canyon and then traversing back to the goods. John and Tracy are skiers, so it's easy for them. For me as a snowboarder, it's some extra hiking, but it's always worth it. Tracy loves throwing down big powder bombs. He weights off from the one turn and as he goes into his next turn he lifts his tips up like a semi-wheelie, and then powers through the turn. I'm always telling him, 'Hit it hard! Slash it!' He is so good at that."
Zeb Yaklich, Private Reserve
"Zeb has been supporting me for years, and I absolutely love doing private shoots with him. See that little triangle of light above his head? I was down low and he was up high, and I was going 'Just aim for the light and turn in it!' If that whole background was sunny it wouldn't work as well. But when you find a circle of sunlight inside the shade, you can get some amazing stuff."
Chauncey Sorenson, below Elk Cliffs 
"This is one of my favorite spots, down in Elk Canyon with the Elk cliffs in the background. I love the perspective of this shot. Chauncey is a super cool guy. He won my photo contest a few years ago. He's from Alaska and he used to compete a lot, so he can do some massive airs. He works at Timberline driving a snow cat. Super unassuming guy, very humble, and one of the best shredders on Mount Hood."
Asit Rathod, Elk Canyon
"That's Asit Rathod in Elk Canyon on February 24th, that second great bluebird Wednesday. There was a whole crew in there that day. Richard Hallman was down below shooting. Chauncey Sorenson was there, and so was Jason Murray. I love the nice dark background and the bright plume of brightness contrasting it in this shot. And Asit is incredible. We had two cameras below and six dudes up top and just perfect pow below. And everyone's bantering about what they're going to hit. And Asit never says a word. He always lets everyone else go. But when he comes down he gets the best shots because he is the boss. He just skis effortlessly. Shooting him the past few years has been a real treat."
Grant Myrdal does private shoots and affordable season photo passes for Mount Hood regulars, in addition to the individual shots that he has organized by dates on his Smug Mug website. The pricing and details can be found here.
Last modified: November 2, 2021